About Liliana

Hello, I am Liliana Vanasco and I appreciate you taking the time to stop by and connect.
I am a Certified Life Coach, Empowerment Mentor, Author and Speaker. I am an ambassador for living happy and fulfilling lives, and finding that happiness from within.
The intention behind everything I offer is to support, empower and inspire people, especially women, to live intentionally and with purpose in alignment with their true self.
A Little History
My career began by attending university and graduating with a bachelor degree in Computer Science. For over twenty years I enjoyed a successful career working in the corporate sector as a software engineer and information systems analyst. Many of the key skills I learnt during this time such as: organisation, time management, goal setting, resourcefulness, problem solving, and client and management liaison, I now apply to my coaching with outstanding results.
The shift in my interests and career began in my early 30's with the onset of my personal journey to find balance and remain happy and healthy in a demanding and stressful life. My search for harmony and meaning led me to discover meditation. This practice guided me to focus more deeply on my spiritual growth, to explore my creative nature and discover more about myself.
In the years that followed I dedicated more time doing those things that gave me joy and a sense of purpose whilst I built my career, cared for my family and studied.
And so I read extensively and attended seminars and workshops within the mind-body-spirit field, which opened doors to other ways of thinking, feeling, and seeing life.
During this time I became an accredited reiki practitioner, a meditation teacher, and also trained in the philosophies of Louise L. Hay becoming a 'Heal Your Life' teacher and personal coach.
I also reconnected with my love for writing that had laid dormant for so many years. This became quite a cathartic and spiritual journey that took me on a path of awakening and connecting with my inner self.
The opening up to the infinite wisdom of my inner world, led me to the writing of my book, Freedom of the Soul: Whispers of Wisdom from Your Inner Being to Live a Life of Purpose.
All these studies provided me with the tools to start facilitating personal development workshops and individual life coaching sessions. When I realized this was really the path I was meant to walk I was inspired to leave my corporate job, change careers, become a published author, and a certified life coach.
From there, I created my Empowerment Programs and began coaching women not only in Australia but from other parts of the world too.
Through individual life coaching, workshops, speaking events, and writing I share my knowledge on meditation, the use of positive thinking, the power of the law of attraction, the natural way to heal the self, the connection with the inner self, and the importance of living a life in a purposeful way.
My mission is to continue spreading and sharing the spiritual truths and principles contained in my book, combined with the practical approach provided by coaching. My purpose is to reach those who are ready to connect with their powerful self and live a soul filled life with the intention of raising their awareness, inspiring them to consciously choose how to live life, and enabling them to discover their uniqueness and gifts.
Some interesting facts about me…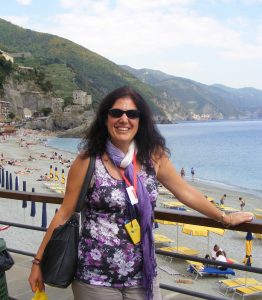 I am bilingual, being fluent in English and Spanish – my mother language.
I am an enthusiastic, creative, practical, focused, and inquisitive individual, and I use these qualities to motivate and inspire everyone I get in contact with.
I live in the beautiful city of Perth, Australia, with my husband and two daughters, where I devote my time to raising my family, writing, coaching, teaching, learning, travelling and enjoying the magic of life.
If you'd like to know more about my journey of personal and spiritual growth, click here.
Thank you for being here. I'd love to connect with you too, so please get in touch with me in the way that feels best to you – e-mail, newsletter, facebook page and let me know a bit about you and how I can be of service.
With love and light,
Liliana